Here's my pick of the resources from May 2013 – and this month it is quite an eclectic bunch!  I've listed them in chronological order, and once again, I've provided a short quote to give a flavour of the article where I've not embedded the resource itself.  You can find others in my 2013 Reading List.
1 – Research in the digital age, it's more than finding information, Scientific American, 2 May 2013
"Today, people are not necessarily considered knowledgeable based on how much information they know, but by how much facility they have with that information. As teachers in the discipline of history we have to own the idea that teaching students how to analyze and evaluate the information they find is more important than gathering that information together in one place."
2 – Lemmings in Suits: Why You Should Become Un-busy, Business2Community, 8 May 2013
"Start becoming un-busy. Create the capacity to use your creativity, to build strong relationships, to coach and mentor others, and to anticipate and deal with the inevitable troubles that come your way."
3 – The Future of Work is Customized Work, Jacob Morgan, 16 May 2013
"Customized work is exactly what it sounds like.  It's the ability of an individual employee to shape their career path within an organization and allows them to navigate to the roles they are best at and most passionate about.  Employees no longer need to focus on ascending the corporate ladder, they are now building their corporate ladder."
4 – Conferences Need To Focus More On Learning Design And Less On Information Transfer, Jeff Hurt, 16 May 2013
"Recent research shows that conference organizers should focus their conference education efforts more on learning design and less on delivery of information. Too often, conference organizers and meeting professionals secure speakers to present specific topics and then think their job is done. Their focus is completely on the content and the delivery of the information. Research is showing that those steps are not enough."
5 – No One Likes to Be Changed, Daniel Markovitz, HBR Blog Network, 16 May 2013
 "The key is to pose a business problem to the workers actually doing the job and then having them design the change."
6 – Life Next Year and Beyond: Appearing and Disappearing, Ross Dawson, May 2013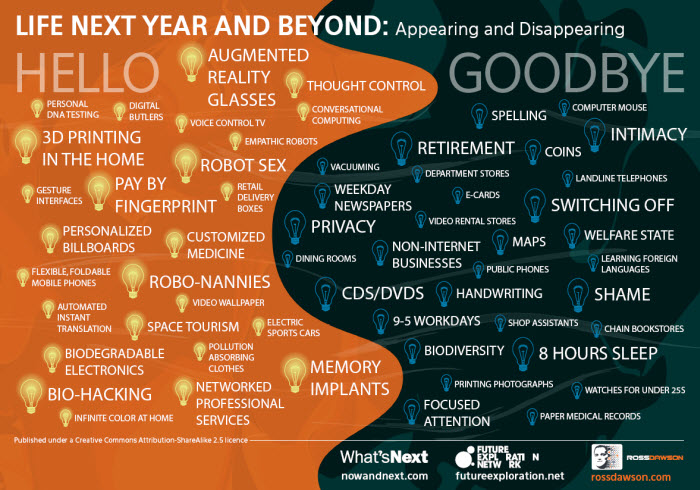 7 – 3 ways to becoming a master learner, Erika Anderson, May 2013
"… most adults aren't very good learners. In order to become the best leader (or, actually, the best anything) you're capable of being, you have to become a great learner."
8 – Less is beautiful: 17 ideas for enriching your life with less, Cyriel Kortleven and Marc Heleven, 21 May 2013
9 – Are you a positive deviant? Jane Bozarth, Training Magazine, May 2013
"In every group there are a minority of people who find better solutions to the challenges at hand…even though they have access to exactly the same resources as the rest of the group, their uncommon practices or behaviors allow them to flourish."—Jerry Sternin
The resources for Jane's webinar can be found on her Pinterest Board on Positive Deviance, and as a result of the webinar, a collaborative song list  was created in Spotify.
10 – A new classification for MOOCs, Grainne Conole, May 2013
"I want to suggest that a better classification of MOOCs is in terms of a set of twelve dimensions: the degree of openness, the scale of participation (massification), the amount of use of multimedia, the amount of communication, the extent to which collaboration is included, the type of learner pathway (from learner centred to teacher-centred and highly structured), the level of quality assurance, the extent to which reflection is encouraged, the level of assessment, how informal or formal it is, autonomy, and diversity."
11 – The Connected Learners- A Book by Students for Teachers, Langwitches Blog, 25 May 2013
"We have heard plenty from teachers. We have heard plenty from educational "gurus" and theorists what students should/shouldn't be learning and how we should/shouldn't be teaching … It is time to hear from students!"
12 – Mapping with Google
"Discover new ways to navigate the world around you with Google Maps and Google Earth. Improve your use of new and existing features of Google's mapping tools. Choose your own path. Complete a project using Google Maps, Google Earth, or both, and earn a certificate of completion."
[youtube http://www.youtube.com/watch?v=gCiKYMRN4s0&hl=en_GB&version=3&rel=0]
13 – KPCSB Internet Trends 2013, Kleiner Perkins Caulfied Byers, Slideshare, 29 May 2012
"The latest edition of the annual Internet Trends report finds continued robust online growth. There are now 2.4 billion Internet users around the world, and the total continues to grow apace. Mobile usage is expanding rapidly, while the mobile advertising opportunity remains largely untapped. The report reviews the shifting online landscape, which has become more social and content rich, with expanded use of photos, video and audio. Looking ahead, the report finds early signs of growth for wearable computing devices, like glasses, connected wrist bands and watches – and the emergence of connected cars, drones and other new platforms."
Note: Slide 108: "Re-imagination" of learning tools displays the Top 100 Tools for Learning.