Voting is continuing in the Top 100 Tools for Learning 2015 survey. Although most people opt to cast their votes for their Top 10 Tools, privately, using the online form, a number of people have shared their tools list in a blog post, and it is really interesting to find out (in more depth) which tools they have chosen and how they are using them.
So here are a number of bloggers who have posted their lists – and I've also picked out a few of the tools they have mentioned.  If you haven't yet voted for your favourite tools, hopefully this will inspire you to do so.  (Note: if I have missed out your blog post, please do leave details in a comment below.) 
1 – COLLEEN YOUNG is a teacher and trainer in Mathematics, and one of the tools on her list is Excel.
Excel is something I use everyday in my job to present data to staff; I also use many spreadsheets for teaching. Of all the applications in the Office suite this stands out for me, the changes from Excel 2003 to 2007 with the massive improvements to conditional formatting for example make this one outstanding application. There are also many Excel spreadsheets out there too to help in Maths lessons – see Maths Files for example.
2 – DAVID GLOW lists 5 tools for personal development and 5 tools for developing others. One of the tools he mentions is Udemy:
Udemy – with constant shifts in tools and technologies, I find it helpful committing to a structured program. Between the options available and almost constant price specials, I get courses worth hundreds of dollars for $15 (cheaper than many books on the same topics and with much more interaction/resources).
3 – JD DILLON shared his Top 10 tools, one of which is Hipchat
HipChat – replaced email as my primary tool for virtual brainstorming and sharing with work groups on the fly (especially when mobile) …
4 – MARTA TORAN chose Popplet as one of her Top 10 tools.
Popplet. Me gusta hacer mapas mentales cuando definitivamente el orden se complica.

(translated using Google Translate) Popplet . I like making mental maps when the order is definitely complicated.
5 – BRITT WATWOOD shared his 10 tools and compared his lists from 2013 and 2014.
6 – AUSHIMA shared her list and commented …
"I started with a good look at my own learning ways, so to speak. I realized that there are so many tools I use in my personal life, which do not necessarily find their parallel "tools" in my work life, and coming from a person who is a Learning and OD professional herself, this speaks volumes at the glaring gap that needs to be covered!"
7 – BRIAN WASHBIRN chose PowToon as one of his favourite tools, (Note: PowToon was the highest new entrant on the 2014 list)
PowToon: I was slow to warm to this little tool, which helps you create short cartoons in a relatively short period of time. But the spirit eventually grabbed me and now I have a lot of fun with this tool – whether to promote a new learning module or just goofing around. Looking for something that's a little different – not quite a full-on elearning module but much more fun that a plain old email announcing the roll-out of a new training offering? Give it a try!
8 – BONNI STACHOWIAK blogged about her list. One of the tools she chose was Overcast.
The tool that contributes more to my learning than any other these days is Overcast, which is one of many podcast "catchers"/players. One thing I like about Overcast is the smart speed function, that skips over pauses in the recordings, but doesn't leave the speakers sounding like Alvin and the Chipmunks.
9 – BEN CARMEL actually chose 10 1/2 tools. Scoopit was one of his choices.
Scoop.It: I maintain a scoop.it page on which I clip articles, posts and images, and have built a reasonable following of others I follow there and who follow me. Not as robust a feed as Twitter, but more focused and topical. I have found that for me it works better than other similar tools (paper.li, Pinterest, etc.), especially the feature that allows me to comment on each clip, quoting or summarizing why I thought it "scoop worthy."
10 – WILFRED RUBENS chose Mentimeter as one of his tools. He explains why
I use Mentimeter (pro-version) during workshops and presentations for activating previous knowledge, to identify beliefs or opinions, or to start discussions.
11 – JAN VAN BELLE included Yammer in his Top 10 list.
Yammer: the enterprise social network in our company keeps us up to date of what is happening in the various locations and business units.
12 – As one of his choices, CLARK QUINN went for Omnigraffle.
Omnigraffle: the diagramming tool I use, and diagramming is a great way for me to make sense of things
13 – At the top of HAROLD JARCHE'S list is WordPress.
WordPress: powers my blog, which is the core of my PKM. It's easy to use, has a huge community, and there are many plug-ins and additions available. I also use it to deliver my online workshops.
14 –  As for CHARLES JENNINGS, his list is full of soundbites! He talks of "Professor Google", of Evernote being "the frontal lobe of his 'external brain"', and Dropbox being akin to a "school satchel". He writes how Skype is the "principal digital 'glue' to share and learn between the members of the Internet Time Alliance, but I particularly like what he says about Twitter.
I have learned more in my professional life through Twitter in the past six-and-a-half years than in the previous 30 years. For me Twitter gives access to smart people who provide an enormous wealth of information and insight through their commentary and links to research, articles and other resources. Twitter is the first tool/resource I access every day – even before I turn to see the sports results!
15 – Finally, not only did ALEJANDRA AVILA write about her tools, but she even produced this infographic: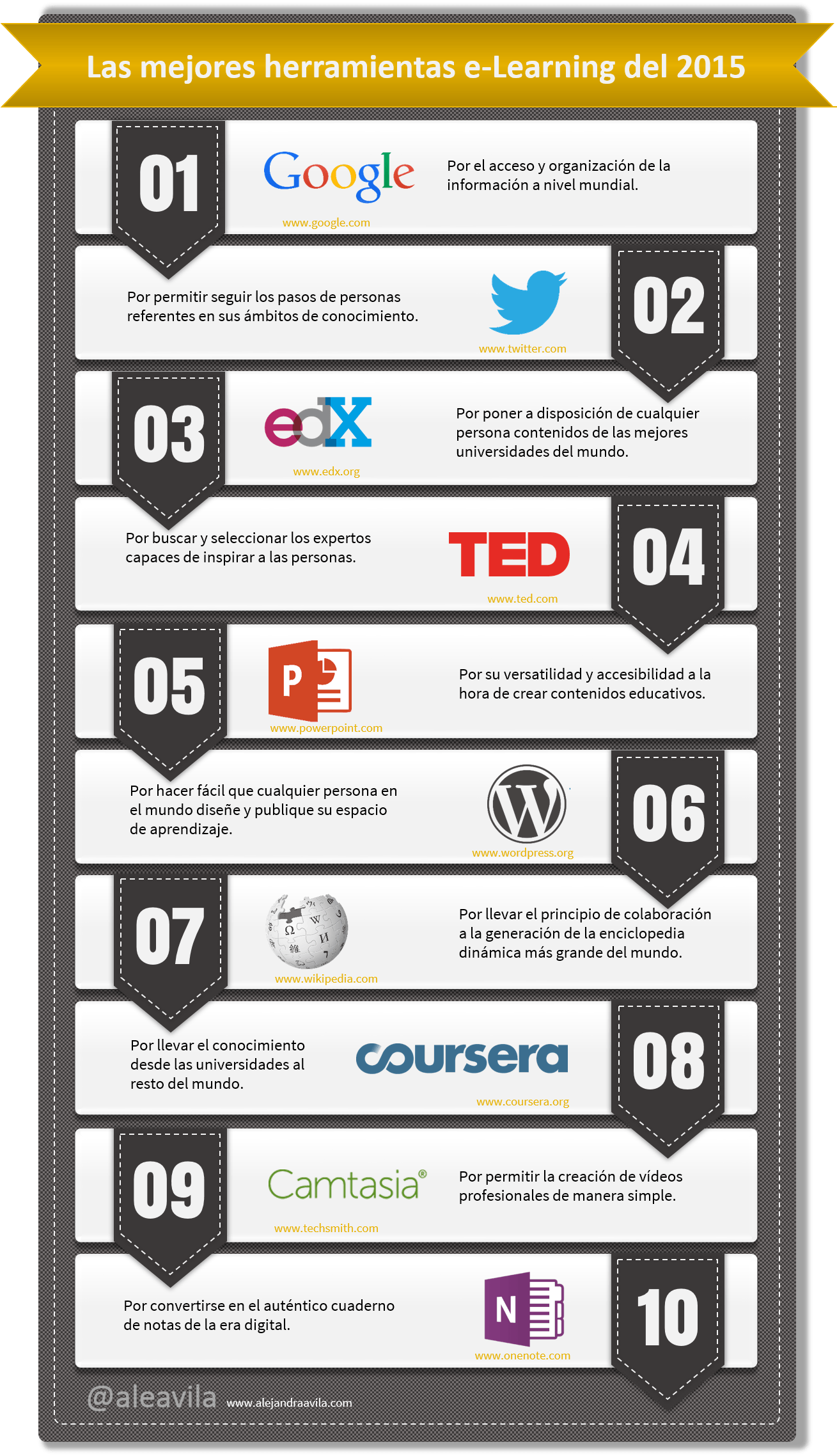 Which of these tools will appear on the Top 100 Tools for Learning 2015? We won't have long to wait to find out! Voting closes on Friday 18th September and the list will be revealed on Monday 21st September.
It's still time to have you say!